"We are an unimaginative lot when it comes to naming things."


The title of this article is conjectural.
Although this article is based on canonical information, the actual name of this subject is pure conjecture. Please see the reasons for this title in the "Behind the scenes" section below, and/or the relevant discussion on the talk page.
World map
Object information
Creator
Made

1720s

Usage
Affiliation
Behind the scenes
First appearance
Latest appearance
"The map is finished, sir."
"[Beckett gazes at the map]...Just the way I imagined it."
―Artisan and Cutler Beckett
This map of the world, known as the Nova totius Terrarum Orbis geographica ac hydrographica tabula, was painted in Cutler Beckett's office in Port Royal.
"Jack Sparrow is a dying breed. The world is shrinking. The blank edges of the map filled in. Jack must find his place in the New World or perish."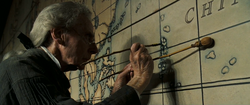 Shortly after Lord Cutler Beckett's arrival and takeover of Port Royal, he wanted his plans to be updated constantly. He employs the artisan to paint the map in Beckett's office. As ships bring in reports of the growing power of the East India Trading Company and new discoveries, the artisan paints in the blank portions of the map, adding new ports, countries, and towns. The completion of the map was still in progress with William Turner's meeting with Beckett, Elizabeth Swann's visit to Beckett, and when Beckett took Weatherby Swann's freedom by employing him while telling him the whereabouts of Elizabeth.[1]
The map was known to be completed around when James Norrington presented the heart of Davy Jones to Beckett.[2] It is unknown what happened to the map after the battle of Calypso's maelstrom.
Behind the scenes
Edit
In the Pirates of the Caribbean: Dead Man's Chest script, this map was referred to as the "World map".
In real-world history, the original Nova totius Terrarum Orbis geographica ac hydrographica tabula would be created by Hendrik Hondius in 1630, and published the following year in the atlas Atlantis Maioris Appendix.
Appearances
Edit
Notes and references
Edit
Ad blocker interference detected!
Wikia is a free-to-use site that makes money from advertising. We have a modified experience for viewers using ad blockers

Wikia is not accessible if you've made further modifications. Remove the custom ad blocker rule(s) and the page will load as expected.