"The East India Trading Company has need of your services."


The blank edges of the map must be filled in. This article has an excess of redlinks in it.
Attention is requested to create new articles from these links. Please remove this message when finished.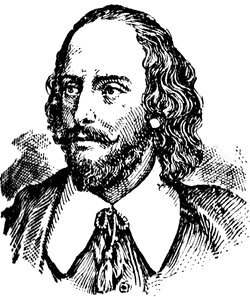 "You read, Captain Sparrow? I mean, for pleasure?"
"Yes I do, Mr. Beckett, when I can find books to take on voyages with me."
"What kinds of things?"
"Poetry, history, biography...I like learning about the world."
"Shakespeare?"
"Some of his plays, most of his poetry."
William Shakespeare (26 April 1564 (baptised) – 23 April 1616 ) was an English poet and playwright, widely regarded as the greatest writer in the English language and the world's pre-eminent dramatist. He was often called England's national poet and the "Bard of Avon". His surviving works, including some collaborations, consist of about 38 plays, 154 sonnets, two long narrative poems, and several other poems.
Biography
Edit
Shakespeare was born and brought up in Stratford-upon-Avon. At the age of 18, he married Anne Hathaway, with whom he had three children: Susanna, and twins Hamnet and Judith. Between 1585 and 1592, he began a successful career in London as an actor, writer, and part owner of a playing company called the Lord Chamberlain's Men, later known as the King's Men. He appears to have retired to Stratford around 1613 at age 49, where he died three years later. Few records of Shakespeare's private life survive, and there has been considerable speculation about such matters as his physical appearance, sexuality, religious beliefs, and whether the works attributed to him were written by others.
Shakespeare produced most of his known work between 1589 and 1613 . His early plays were mainly comedies and histories, genres he raised to the peak of sophistication and artistry by the end of the 16th century. He then wrote mainly tragedies until about 1608 , including Hamlet, King Lear, Othello, and Macbeth, considered some of the finest works in the English language. In his last phase, he wrote tragicomedies, also known as romances, and collaborated with other playwrights.
Many of his plays were published in editions of varying quality and accuracy during his lifetime. In 1623, two of his former theatrical colleagues published the First Folio, a collected edition of his dramatic works that included all but two of the plays now recognised as Shakespeare's.
In the 1730s, Captain Jack Sparrow had read books that he would take on voyages, including some of William Shakespeare's plays and most of his poetry. Shakespeare would be a matter of discussion in Jack's young adult life, during his first meeting with Cutler Beckett. Sparrow's First Mate Robert Greene also liked to read some of Shakespeare's books.
Appearances
Edit
External links
Edit
Ad blocker interference detected!
Wikia is a free-to-use site that makes money from advertising. We have a modified experience for viewers using ad blockers

Wikia is not accessible if you've made further modifications. Remove the custom ad blocker rule(s) and the page will load as expected.