"I'm Wilfred. I've been waiting for you. I'm here to inform you where to make your landing"
―Wilfred to Nathaniel Hawk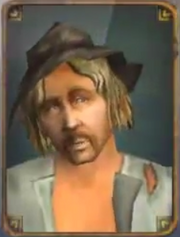 Wilfred was an English spy who operated in the Caribbean during the early 1630s.
Biography
Edit
An English agent in Greenford, and a craftsman by profession. He was disguised as a vagrant in tattered clothes, and carried a sword. He met with Captain Nathaniel Hawk and Ewan Glover when they arrived at Greenford to land troops. He found a cave near Gray Rock Bay to land the troops, and signaled the two ships to land there at night with a torch, but was spotted by French troops, who ambushed the English troops. However, the mission was a success, and Oxbay was taken from the French.
Appearances
Edit
Ad blocker interference detected!
Wikia is a free-to-use site that makes money from advertising. We have a modified experience for viewers using ad blockers

Wikia is not accessible if you've made further modifications. Remove the custom ad blocker rule(s) and the page will load as expected.