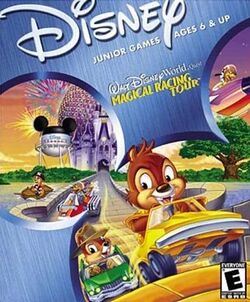 Walt Disney World Quest: Magical Racing Tour is a racing game available for the Playstation, Dreamcast, PC, and Gameboy Color. In the game, players race on tracks inspired by attractions at Disney World while trying to find parts for a fireworks machine that Chip and Dale accidentally broke. The game features thirteen drivers, thirteen tracks, and music taken straight from the attractions.
Pirates of the Caribbean ContentEdit
One of the tracks is based on Pirates of the Caribbean.
One of the racers, Polly Rogers, is based on the pirates from Pirates of the Caribbean.
Ad blocker interference detected!
Wikia is a free-to-use site that makes money from advertising. We have a modified experience for viewers using ad blockers

Wikia is not accessible if you've made further modifications. Remove the custom ad blocker rule(s) and the page will load as expected.