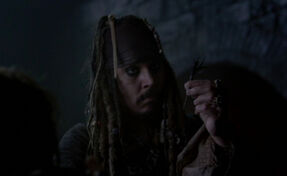 Voodoo darts were darts made by practitioners of Voodoo. Dipped with a secret, sleep-inducing elixir, the voodoo darts were most notably used by the zombie Quartermaster, which were given to him by Blackbeard.
The Voodoo darts were given to the Quartermaster as a weapon by Blackbeard so that the zombie would complete his tasks. After Jack Sparrow and Angelica escaped the Royal Guards at the Captain's Daughter, they swam through the River Thames. As the two came ashore, the Quartermaster drugged Jack with a voodoo dart, knocking him out cold in order to take him aboard the Queen Anne's Revenge. The poison from the dart had left Jack unconscious for at least five days. Later, as Blackbeard attempted to get a mermaid's tear from Syrena, the Quartermaster used a dart on Philip Swift to make him seem dead so that Syrena would cry with tears of joy when he turned up alive.[1]
Behind the scenes
Edit
Appearances
Edit
Notes and references
Edit
Ad blocker interference detected!
Wikia is a free-to-use site that makes money from advertising. We have a modified experience for viewers using ad blockers

Wikia is not accessible if you've made further modifications. Remove the custom ad blocker rule(s) and the page will load as expected.