"Yo ho, yo ho, a pirate's life for me..."
- Elizabeth Swann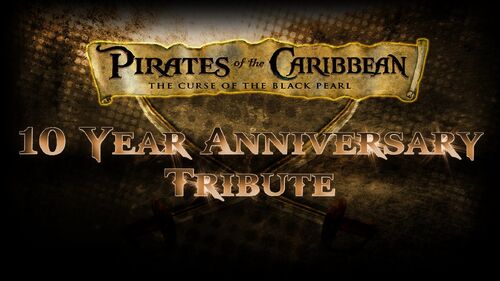 ---
We're coming to the end, aren't we? Well, if you've made it this far, you more than likely followed the previous blog post (as well as the blog before) and know that this is the final blog surrounding the 10th anniversary of Pirates of the Caribbean: The Curse of the Black Pearl. For those who have followed, you must be wondering why I didn't put a video up here as with the other anniversary blogs. Well, it's fairly simple. As this is the final blog regarding the subject, I decided to put the video at the bottom of the blog for last...that and in an attempt to make people read the content beforehand!
Now I'm pretty sure most of you will say...Bloody pirates!
Intro
Yes, Pirates fans, this is it! As previously mentioned, this is the third and final blog post about the anniversary. Why? Because it has now been 10 years since the first Pirates movie was released in theaters. I know what you're thinking. After all I've done so far, what could possibly be shown at this point? Truthfully, I've been thinking that myself, wondering if there was anything I missed(odds are, there was a lot). Still, look on the bright side, at least you'll get to see the scene shot on Johnny Depp's very first day of filming as Captain Jack Sparrow. No kidding folks, it's real. But before we get to the matter, we should appreciate what Mr. Depp brought on that faithful day, let alone the past 10 years.
Though I'm not going to say too much. Words from producer Jerry Bruckheimer himself, whether it's from The Complete Visual Guide or from The Art of On Stranger Tides, can say so much better than I. But who knew that studio executives thought that no one would like such a character. We all know the story. Captain Jack became an iconic, let alone very popular, character. His adventures continued in at least three film sequels, two-to-three theme park attractions, two book series and one full-length novel, among others. And audiences obviously still want more.
Details
Now back to the matter at hand. For this post, I do present the scene filmed on Johnny Depp's first day bringing Captain Jack to life. But first, I should be clear on several important facts(some already posted in the Trivia blog)...
Among the crew, the first scene filmed was often referred to as the scene shot at Fort Charles: Norrington's promotion ceremony. The cast and crew remember the promotion scene as 'start of production' more than likely because it was the first really large effort. But despite this being Jack Davenport's (Commodore Norrington) first day on set, it was not THE first day of filming.
Director Gore Verbinski and Keira Knightley (Elizabeth Swann) maintain in their respective DVD commentaries that the first scene shot was actually Barbossa and Elizabeth's dinner aboard the Black Pearl. That scene was filmed at some point after principal photography commenced on October 9, 2002 (most likely on the same day), where the first two weeks of production were spent on stages, including the moody interior of the captain's cabin of the Black Pearl at KABC, a local news affiliate to the Walt Disney Company in Glendale, California.

And last point, which does include dialogue from some of the stars (and director) themselves, was about Johnny Depp's first day of filming as Captain Jack Sparrow. This was all I could get via audio commentaries on the DVD, so there you go. Enjoy!
From Johnny Depp and Gore Verbinski...
Depp: Here's the first day of shooting.
Verbinski: It's interesting. You look cleaner than in the rest of the movie. I think this was after your meeting with Dick Cook and Jerry.
Depp: Immediately after.

From Keira Knightley and Jack Davenport...
Knightley: This is Johnny and Geoffrey's first scene in the movie. This was shot after mine and Geoffrey's first scene. Possibly on the fourth day of shooting. This was the first time everybody realized how Johnny was going to play Jack Sparrow. Wicked.
Davenport: It took a lot of people by surprise.
Knightley: It did, but he's one cool dude.
Davenport: He certainly is.
Knightley: Martin Samuels for the hair, and Ve Neill for the make-up. How cool on both of them. Look at that scar over Geoffrey's eye.

And there you have it. Depp's first day on set as Captain Jack took place after Keira's first day with Geoffrey Rush (Captain Barbossa), though I assume that scene was his first day as well. Now I saved the best piece of the puzzle for last. Still wondering what that scene those stars were talking about? Well...
Video
The End?
Hope you've enjoyed the video! That was indeed the first scene Johnny Depp filmed and (quoting Keira) the first time everyone realized how Johnny was going to play Jack Sparrow. And of course I arranged a little tribute into the video, just for this special occasion. Courtesy of user John Foulroberts, one of the admin of Pirates Online Wiki! To all followers of this blog, including my fellow shipmates: it has indeed been an honor, nay a privilege, to have posted all this for your viewing and pleasure.
Now that I've said all that, I'll tell go and tell you fans to go and watch the movie! Watch it, love it, and heck if you enjoyed it go behind the scenes. If you have collector editions or even the legendary "Lost Disc" you should be able to know every detail released. Or, for those who just own the movie alone, view our articles which chronicled much from the film...even its backstory which goes back over 10 years, maybe more. Our articles may not be complete, but that's the fun - to learn more about the lore every day.
To close this particular series of blogs, I like to say...Happy 10th Anniversary The Curse of the Black Pearl! While it seemed to be a great struggle to bring this rousing adventure to the big screen, it really came through to be a great beginning to a popular franchise, let alone one of the greatest pirate stories ever told.
All that's left now is to say Take what you can...give nothing back! :)
Ad blocker interference detected!
Wikia is a free-to-use site that makes money from advertising. We have a modified experience for viewers using ad blockers

Wikia is not accessible if you've made further modifications. Remove the custom ad blocker rule(s) and the page will load as expected.