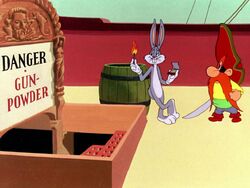 Well, this had been an curious month. First we find out that screenwriter Jeff Nathanson was hired to write Pirates of the Caribbean 5, then Disney greenlit the film for 2015. Then comes today, like some old people do, I decided to watch the original Looney Tunes cartoons...ok, I'm not THAT old but I do love me some Bugs Bunny. Interestingly enough, this classic trickster character was one of the many inspirations to Captain Jack Sparrow.
Even more interestingly, though I was only trying to watch some old time classic slapstick comedy, I saw a pirate-related episode with Bugs Bunny and Yosemite Sam, who was named "Pirate Sam" in one of the several pirate-themed episodes. So I thought I'd show them all off for fun and laughs:
Buccaneer Bunny - couldn't find a link for this one, but I'm sure it's worth to watch
So those are pirate-related cartoons I thought I'd present here, at least ones I can think of at the moment. Now tell me, particularly those not familiar with the original Bugs Bunny cartoons, do you like these or not? Also, for those who probably felt like watching cartoons and ended up seeing a pirate-related surprise, which do you like watching most? Is it worth watching? And why? Feel free to comment below regarding any of this.
Ad blocker interference detected!
Wikia is a free-to-use site that makes money from advertising. We have a modified experience for viewers using ad blockers

Wikia is not accessible if you've made further modifications. Remove the custom ad blocker rule(s) and the page will load as expected.