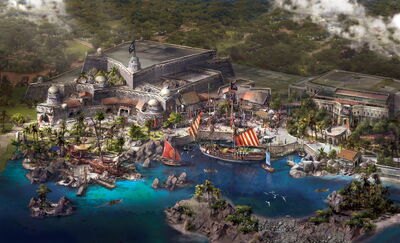 On this day in 1967, Pirates of the Caribbean debuted at Disneyland in Anaheim. 47 years later, as part of The Walt Disney Company Annual Meeting of Shareholders, Disney chairman and CEO Bob Iger unveiled creative details including the first-ever Pirates-themed land—named "Treasure Cove"—designed for the Shanghai Disney Resort. And interestingly enough, according to sources, it will include a new attraction—called Pirates of the Caribbean: Battle of the Sunken Treasure—which will feature a combination of new technology and innovation to bring guests along a pirate adventure with Captain Jack Sparrow and Captain Davy Jones. Whether that means the resort will have a version of the original attraction or not is currently unknown...though it doesn't seem like it.
You can find out more in the Disney Parks Blog, Inside the Magic, and the official D23 site.
---
There's good news and bad news today for Pirates fans. The good news (as I pointed out above) is that Disney has revealed a detailed look at "Treasure Cove" that's set to open in late 2015. The bad news, however, is that a fifth big screening outing for Captain Jack may be farther off than originally thought.
According to sources, Variety's Marc Graser tweeted that Bob Iger announced that the fifth entry in the Pirates film franchise—tentatively titled Pirates of the Caribbean: Dead Men Tell No Tales—has not yet been given a green light at the studio. As noted by CinemaBlend and JoBlo, this has cast doubt in the film even happening. But even then, and it pains me to speak for either cases, that nothing is set in stone.
With directors Joachim Rønning and Espen Sandberg attached to helm the fifth film, it seemed like the Johnny Depp film was coming no matter what, but then the film was pushed to 2016, effectively stopping casting and pre-production until decisions could be made. Rønning and Sandberg are still tentatively attached to direct the film, working from a screenplay by Jeff Nathanson.
We should find out sometime this year if Pirates 5 is happening or not. But until such time, I ask you, would you like a fifth film to happen? Or is Treasure Cove enough? Please share your thoughts below!
Ad blocker interference detected!
Wikia is a free-to-use site that makes money from advertising. We have a modified experience for viewers using ad blockers

Wikia is not accessible if you've made further modifications. Remove the custom ad blocker rule(s) and the page will load as expected.