I call for a vote.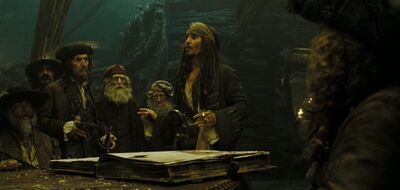 Ahoy Pirates fans! This may be a bit awkward, but I need all the help I can get. As usual, I try to do some preparations regarding changes on POTC Wiki's Main Page by the end of each month, particularly the Poll you see on the right side. But, though I'm afraid to admit it, I've run out of poll ideas at the moment.
Now, I'm sure someone's gonna say "Why not make a poll about Pirates 5?" Well, reason for that being that I'm trying to wait for the opportune moment - i.e. around when production (hopefully) starts.
So yea, if anyone has any good poll ideas, please share! There should be enough ideas coming from 2 Disney attractions, 4 movies and a short film, 2 book series and a full-length novel, several games, and two cancelled but highly anticipated material(Armada of the Damned and Six Sea Shanties).
In case anyone is confused, this is what the poll's subject has to be...
Obviously, the subject has to be POTC related. And yes, this does include stuff relating to Disney Parks.
Has to be voting related. It has to be either a question or "Favorites"(which I obviously do alot)
There has to be at least 2 or 3 choices. Maximum number of choices, at least I would say, is 5 or 6.
And that's pretty much it. If you're lucky, I may be inspired by your views...or better, choose your ideas. :)
Note: As stated above, I'm not planning to have a Pirates 5 poll as of yet, and I intend on keeping my word. However, if an interesting enough Pirates 5 question is given, I might consider using it whichever time is right.
Ad blocker interference detected!
Wikia is a free-to-use site that makes money from advertising. We have a modified experience for viewers using ad blockers

Wikia is not accessible if you've made further modifications. Remove the custom ad blocker rule(s) and the page will load as expected.