"And mark well me words, mateys...dead men tell no tales!"
- Talking Skull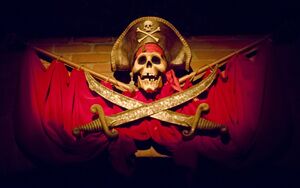 Billy Donnelly of This Is Infamous has reported the title for Pirates of the Caribbean 5.
According to Donnelly, he got off the phone with directors Joachim Rønning and Espen Sandberg, having talked about their Oscar-nominated film Kon-Tiki coming to Blu-ray on August 27. And being that they were announced as the directors of Pirates 5 back in May, he tried to get any tidbits. Taking from Donnelly's article, they seemed genuinely enthused about the script they'll be working with and also revealed something worthwile: a title!
And what is this title, you may ask? Pirates of the Caribbean: Dead Men Tell No Tales, which harkens back one of the famous lines from the original Disneyland attraction that inspired the franchise to begin with. Nothing more was mentioned on the film, but I'm sure most fans are intrigued about this new title.
Launched in 2003 with The Curse of the Black Pearl, the franchise has, in every film so far, featured Johnny Depp in the role of Captain Jack Sparrow. Pirates of the Caribbean: Dead Men Tell No Tales follows the release of On Stranger Tides. Other than directors Joachim Rønning and Espen Sandberg, Dead Men Tell No Tales will be produced by Jerry Bruckheimer, and the screenplay is by Jeff Nathanson. Production is scheduled to begin either late 2013 or early 2014, with Disney targeting a July 10, 2015 release date.
Keep following for more news and updates.
EDIT:
Almost forgot to credit User:Sean B. for the find. :)
Ad blocker interference detected!
Wikia is a free-to-use site that makes money from advertising. We have a modified experience for viewers using ad blockers

Wikia is not accessible if you've made further modifications. Remove the custom ad blocker rule(s) and the page will load as expected.