"We have our heading!"
- Captain Jack Sparrow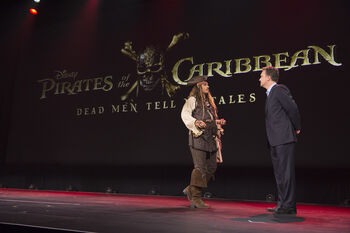 Less than a month after production wrapped, the Pirates franchise sets sail to this year's D23 Expo!
Among the many news and reports, I did find this one video which covered most of the info I have now. Sean Bailey, the president of production at Walt Disney Pictures, came out and presented new information regarding the fifth installment of the film franchise, Pirates of the Caribbean: Dead Men Tell No Tales...
In other, smaller-ish news, some you may or may not have interest in...
Disney debuted footage from their upcoming films, including Dead Men Tell No Tales (not a trailer)
An exhibit showcasing the new Shanghai Disneyland Pirates-land, Treasure Cove. There was also a presentation of the land and upcoming ride!
Johnny Depp appeared, not just as Captain Sparrow on stage, but as a new Disney Legend! During his speech, he broke into his character's voice after an audience member shouted out the word "parlay". The actor also took issue with the word "fan" by saying the following:
"I never really liked that word, because it sort of implies that someone is above and someone is beneath in a weird way. So I would say that you are in fact my 'employer.' Thank you for giving me this great opportunity to basically do stupid stuff for a living. For watching me."
What are your thoughts on the latest news? Please comment below and share your thoughts! :)
Ad blocker interference detected!
Wikia is a free-to-use site that makes money from advertising. We have a modified experience for viewers using ad blockers

Wikia is not accessible if you've made further modifications. Remove the custom ad blocker rule(s) and the page will load as expected.