Update 11/5/2013: On September 10, 2013, Pirates of the Caribbean 5 has been delayed, meaning most of the information presented in this blog may be redundant. To clarify for new viewers of this blog, I will cross out the now-to-be-false information, but leave it so that the previously-confirmed truths will be known. But for P5 news that still stands true, quotes that may still be of value shall remain as is.
In spite of this, viewers should only focused on the news, quotes, and other content under "Confirmed", as it was made clear that the content under "Rumor/Speculation" shouldn't be taken as fact, for now, as neither Disney nor Bruckheimer confirmed any of them.
And word of warning: I have modified this info in an updated version of this blog, so there may be some changes or additional stuff from the cast and crew about P5.
Note: The cross on "December August 2013" is not news - it was a typo I made when I first made this blog.
---
"You lied to me by telling the truth?"
- Jack Sparrow
Ahoy Pirates fans! To follow the anniversary blogs posted in the last few weeks, I'm pretty sure some of you would like a blog about the potential Pirates of the Caribbean 5, especially after the announcements made in the past few months. This blog is a rundown of everything we know about a possible fifth film in the Pirates series based on all the statements, hints, rumors and speculations released so far.
Overview
Ever since before the release of the fourth film, On Stranger Tides, there had been many whisperings and rumors regarding a fifth Pirates on the horizon. Among the talk were uncertainties, such as when filming would take place or who would return. Pirates 5 was first brought into question (and semi-confirmed by producer Jerry Bruckheimer) when Entertainment Tonight reporter Mark Steines visited the On Stranger Tides set while an action sequence was being shot at the Universal Studios Hollywood backlot in summer 2010. [1]
STEINES: Does it stop at 4? Does it go to 5? Do you see a 6?
BRUCKHEIMER: Well, if people show up for 4, we'll certainly try and do a 5. We're already working on a story, laid out some kind of interesting beats, things we'd like to see in 5. So that's where our writers are working.
In January 2011, Johnny Depp told Entertainment Weekly that he would be interested doing a fifth film and be happy to play Captain Jack Sparrow again, "As long as we can put all the puzzle pieces together, I would most definitely consider it," he said. [2] In an interview, Kevin McNally (Joshamee Gibbs) stated that a fall 2012 production start was possible. He also said that, because of the financial success of On Stranger Tides, Rob Marshall may return to direct. ultimately said, "I don't know. All these things are up in the air." [3] Of course things soon changed.
Confirmed
Writing a Script
Since January 2011, it was reported that veteran writer Terry Rossio would write the screenplay for Pirates 5, but without Ted Elliott, his co-writer who helped write the previous films.[4] Over the course of two years, producer Jerry Bruckheimer showed progress (mostly via Facebook and Formspring). On October 2011, while talking about the budget on Disney's The Lone Ranger, Bruckheimer confirmed they were in the outline phase and that rewrites were underway. [5] On October 24, Jerry Bruckheimer tweeted the following:
#PiratesoftheCaribbean screenwriter Terry Rossio doing his usual phenomenal work on P5 [6]
Over the next year or so, there had been no solid word on where the project was in development, only that the film was still being written, and that Rob Marshall was to return to direct.[7]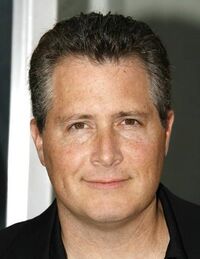 Writer and Release Date
On January 11, 2013, it was reported that Jeff Nathanson had been hired to write a screenplay.[8] Jeff Nathanson's other works include the Rush Hour sequels, Catch Me If You Can, The Terminal, and The Last Shot, and has also co-written a story draft for the film Indiana Jones and the Kingdom of the Crystal Skull with George Lucas. More recently, he's done Tower Heist and Men in Black 3. To this date, it is unclear whether or not Nathanson was to work from Terry Rossio's draft or as a page one rewrite.
Days later, on January 14, Janelle Tipton of the Walt Disney Studios shared some release dates. Chief among them, Pirates of the Caribbean 5 was set for July 10, 2015. According to the Official Disney Blog, the film will have Johnny Depp return to his iconic role as Captain Jack Sparrow, and it'll be produced by Jerry Bruckheimer. The blog further confirms that the screenplay will be written by Jeff Nathanson. [9]
New Directors
On May 2013, Deadline reported that Disney was close to choosing a director. Of the directors mentioned, there were three that were on the short list: Fredrik Bond, Joachim Rønning and Espen Sandberg, and Rupert Sanders. [10] On May 29, it was announced that Rønning and Sandberg would be direct and that they would prep the movie for a late year or early January start. [11]
Current Status
On June 2013, producer Jerry Bruckheimer praised the new directors, where their last project Kon-Tiki was mentioned. "We saw their movie early on, maybe six months ago, and I saw some of their other work, which I thought was terrific. That convinced me. They were interested in doing it and they flew over and we showed them a script that we were working on and they had really amazing ideas." The producer also gave the status of the franchise, saying that the two came to Hollywood and started work on it. "We're hiring production designers now and it's moving forward." Bruckheimer also said that Pirates 5 would maintain the mixture of high seas adventure and supernatural horror, and confirmed where part of the movie will be filmed at. "We're certainly going to be filming in Louisiana because of the tax breaks and I think there might be a sequence there," Bruckheimer said. Before quickly adding: "But it will also be set in the Caribbean, obviously." [12]
On July 2013, near the release of Disney's The Lone Ranger, Bruckheimer said they plan on filming "end of this year, beginning of next year." He also hinted the film would explore brand new and exciting horizons. Asked what he believes audiences want, Bruckheimer said, "We don't know what they want." Bruckheimer added, "We try to go by our gut and figure out what's exciting; where haven't we traveled in the past." [13]
Rumor/Speculation
As with many releases, there will be rumors and speculations about Pirates of the Caribbean 5, and it may be impossible to try and list all them. I will, however, present the much-viewed and most discussed rumors.

Note: Almost none of the following have been confirmed by Disney or Jerry Bruckheimer Films,
so take it all with a grain of salt.
Back-to-back
On November 19, 2010, On Stranger Tides finished filming and entered post-production. Just weeks later, HitFix reported that Disney had already begun plans for Pirates 5 and 6. The news suggested that Disney was supposedly to shoot these proposed Pirates sequels back-to-back as with Dead Man's Chest and At World's End. [14] But, as written on top, Bruckheimer only spoke of a fifth film to Entertainment Tonight. In June 2012, writer Terry Rossio debunked the ongoing rumor by saying there won't be a Pirates 6 until after a potential Pirates 5 is made. He said that everybody involved is taking these one movie at a time. [15]
Cast and Crew
Some of the new cast of On Stranger Tides expressed interest in reprising their roles, including Sam Claflin (Philip Swift) [16], Astrid Bergès-Frisbey (Syrena) [17], and Stephen Graham (Scrum) [18]. Even Judi Dench (Society Lady)[19] and Greg Ellis (Theodore Groves)[20] had interest in returning.
Now regarding main key cast members. As of September 2012, Penélope Cruz (Angelica) admitted that she had not heard anything or read a script. [21] Keith Richards (Captain Teague) said he has the costume and would return for the fifth film, saying "I'll wait for a call from Johnny." [22]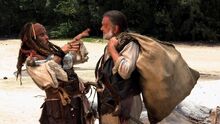 Despite Joshamee Gibbs having survived the events of On Stranger Tides and was last seen in Captain Jack's company, Kevin McNally was philosophical when the topic of the pending sequel came up. "Who knows. Gibbs could get eaten by some off-screen sea beast between Pirates 4 and Pirates 5." McNally continued, "Don't get me wrong. I love making these movies. I love working with two consummate professional gentlemen like Mr. Rush and Mr. Depp. But I'm not the one who gets to decide here if my character comes back or not. That said, I do hope that they bring Mr. Gibbs back. He seems to be the only sensible character in the Pirates series. Plus Gibbs usually occupies a very important role in these stories. He's the one who typically questions Captain Jack's motives. Which makes this character a very useful device, at least when it comes to clarifying key plot points for the audience." [23]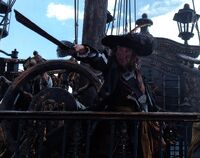 As for Geoffrey Rush (Hector Barbossa), fans already know what happened to the character at the end. But what happens afterwards? Rush loved the way the writers managed to give an evolution to the character. The most popular theory, or at least in his perspective, are focused on Barbossa possibly becoming the villain again, given the way things leave off in On Stranger Tides. [24] Rush also said that Barbossa's megalomania "could explode in horrific ways." [25] Though he also said that the script had to be in good shape before making the film. But when it will go, Rush could only say "I know nothing." [26]
New or Returning Cast?
Of course there will be new cast members, but one wonders who is interested. One that stands out includes Robert Downey Jr. (which was covered in a previous blog). But considering the news didn't break out, this could more than likely be just a conversation between celebrity and fan rather than official interest.
UPDATE (as of July 2013) : At the premiere of The Lone Ranger, the same fan brought up the idea with Johnny Depp, who was interested in the idea.[27] But again, it could be just simply be something between celebrity and fan.
We already covered returning cast members of On Stranger Tides, but what about the original Pirates trilogy? Of course there was a rather big rumor (which is covered below). For now, though, we'll be speaking about known actors interested that didn't make it to news articles, such as Lee Arenberg (Pintel). When speaking at the Farpoint Star Trek Convention in Timonium, Maryland, Arenberg revealed that he was sad that he couldn't return for the fourth Pirates film.[28] From there and posting on Twitter, Arenberg had shown interest in returning for Pirates 5. [29] While it's not official, it's not impossible either, as many fans have missed both Pintel and his cohort Ragetti. The two characters were also considered to make an appearance in On Stranger Tides, but director Rob Marshall opted out of the idea as he feared their roles would be cut. [30]
Orlando Bloom
Pirates fans already know what happened to Will Turner at the end of At World's End, though his ultimate fate being controversial to some. But was it a real goodbye? Orlando Bloom, who portrayed Will Turner in the original Pirates trilogy, passed on returning in the fourth Pirates movie so that he could spend more time with his girlfriend at the time, and now wife, Miranda Kerr. In fact, Bloom gave multiple quotes stating that he was happy to move on from the character, perceiving that Will Turner's storyline had tied up nicely in the third film, so far as to say Will was "sort of swimming around with the fish at the bottom of the ocean." [31]
In October 2011, while being interviewed for The Three Musketeers, Orlando Bloom stated that, if offered, he would be happy to return: "I was quite sad not to be in the fourth and I really miss working on them. If they said they wanted me back, of course I'd do it. It's great to see the franchise still doing so well."[32]
On September 2012, there was an erroneous report surfaced that said Pirates 5 would be using the equally-tropical terrain of Puerto Rico, though Disney was quick to confirm that the aforesaid story is inaccurate and that the movie is still in development. [33] Shortly after, Clint Morris (Caffeinated Clint) of Moviehole reported that a "separate Disney contact" gave this one-line response:
"Will Turner's story might not be finished..." [34]
The answer is very cryptic. This new rumor contradicts all previous news of Will Turner's story being over,[35] though it does seem far off because of Will's story reportedly being over, as aforementioned. Despite this, it implies that Will Turner's story may continue, but doesn't confirm on if it's for a full-length movie or maybe a short film (a la Tales of the Code: Wedlocked). It could even be Disney's tease of a possible Pirates television series, as producer Jerry Bruckheimer was interested in the idea, mentions that Tim Tyler's Luck, based on the comic book, is one of his favorite old movie serials. [36] But with Bloom's recent statement and Disney's intention to keep the Pirates franchise alive, we can only guess what is going on right now.
From the Revenge to the Black Pearl?
With the help of production designer Rick Heinrichs, the Sunset was a ship chosen for use in the Pirates sequels; the ship portrayed the Black Pearl in the second and third film, while later reconstructed as the Queen Anne's Revenge in the fourth film. The Sunset was docked into Long Beach, California from Oahu, Hawaii where On Stranger Tides was filmed, waiting for her call up. [37] But by January, 2013, the Sunset was anchored in Puerto Rico. [38]
Most of you may be wondering some things. Why is the Sunset in Puerto Rico? Will it remain as the Revenge or be reconstructed back as the Pearl? No one knows for sure, not even if the Sunset will return in Pirates 5. All that is currently known, again, as stated above, is that the ship's waiting for her next call up.
Terry Rossio and others
Veteran writer Terry Rossio was originally writing the script for Pirates 5, and had been reported as writer for years. Of all the news that stood out, actor Geoffrey Rush said that, when asked if any new aspect of the pirate world were to be explored, "I have a feeling from what Terry said that he might explore things that aren't necessarily pirates-based. He'll put them into dramatic situations that aren't necessarily pirate-driven." [39] But whether that idea was dropped or even considered, is unknown.
It later emerged on January 2013, that Jeff Nathanson would write the screenplay. This made people think that Rossio either had a new writing partner, or that he was replaced altogether. Following the reports and the big confusion amongst the fan community, Rossio was directly asked whether or not he was still involved in the project on his official website, Wordplay. His reply was that it was "a case of Shroedinger's Cat. The answer is either yes or no, and the box hasn't been opened yet." [40]
The answers are very cryptic. However, as of Summer 2013, Pirates 5 remains listed on Wordplay's filmography. The following is written under "Projects In Development":[41]
PIRATES OF THE CARIBBEAN 5 -- (Shared screenplay with Jeff Nathanson) Distributed by: Disney Studios. Executive Producers: Mike Stenson, Chad Oman, Terry Rossio. Produced by: Jerry Bruckheimer. July 10, 2015
UPDATE (as of October 2013) : Obviously, given the film's delay, the list had been changed to the following. Changes and/or additions are in bold.
PIRATES OF THE CARIBBEAN 5 -- (Screenplay by: Jeff Nathanson) Distributed by: Disney Studios. Executive Producers: Mike Stenson, Chad Oman, Terry Rossio. Produced by: Jerry Bruckheimer. Directed by: Joachim Rønning and Espen Sandberg.
Assuming this post remains online, Pirates 5 will see the return of Mike Stenson and Chad Oman as executive producers. This also leaves the door open for Terry Rossio to have some credit, if not being more involved as a returning writer or, as of On Stranger Tides, executive producer of the fifth film.
Hawaii?
As you may know, most of On Stranger Tides was filmed in the Hawaiian islands of Kauai and Oahu. On April 25, 2013, Pacific Business News had reported that several films had plans to film in Hawaii. It was "hinted" that Pirates franchise would come back for the fifth film. [42]
Production starting in Puerto Rico?
According to El Nuevo Diario, work on Pirates 5 is to start in September 2013, taking place in the Roosevelt Roads Naval Base in Ceiba, Puerto Rico. The article suggests that Disney will do most of the filming in said town because they have at their disposal docks and ample space to recreate a village with several taverns. The base isolated environment is ideal also for sequences that require the use of explosives and demolition of structures built for the film. The construction process to create the atmosphere in Roosevelt Roads require at least three months, so the cast won't begin filming until early 2014. [43]
Plot and Title?
Throughout the four films, Captain Jack Sparrow had embarked on a number of grand adventures, most recently after the fabled Fountain of Youth. As one adventure ends, the far-off horizon beckons with promises of new treasures to be had. While the exact nature of Jack's next venture is still tightly under wraps, there have been whisperings and rumors that it may involve some fantastical. One of the more popular fan theories regarding the plot for the sequel are focused around finding Atlantis. For now, all we can do is speculate based on what we know so far.
There have been many fan-made titles, such as "Treasure of the Lost Abyss" which has persisted for years.[44] However, we might get a new title in the Pirates franchise before the end of the year, or as part of the next financial year. The most likely event for such an announcement would be either be Comic-con or even the D23 Expo in August 2013. For now, we can only hope.
Budget
OK, I'm sure fans who follow movies news will ask: do you think Pirates 5 will be affected by The Lone Ranger? Well, that is a difficult thing to answer. The Hollywood Reporter noted that producer Jerry Bruckheimer may face a budget renegotiation on the planned Pirates 5. [45] But will this still hold up true? We don't know. There is hope that it may not because Pirates is a fairly popular franchise. Also consider that there were two movies made under Disney and Bruckheimer that also faced critical reception (Prince of Persia and The Sorceror's Apprentice). But again, Pirates is fairly popular, so we can be optimistic.
UPDATE (as of August 2013) : Terry Rossio clarified that P5 was not at the budget stage at the time.[46]
Conclusion
That's pretty much all that was covered on the world wide web. Right now, there is supposedly still no approved script for the film, tentatively set for 2015, though Johnny Depp and Jerry Bruckheimer are set to return with directors Joachim Ronning and Espen Sandberg. Any further announcements (such as plot synopsis or cast) could take place in the next several months. But as always, remember that none of these rumors have been confirmed by Disney or Bruckheimer, so take it all with a grain of salt. Visit official Disney websites or Jerry Bruckheimer's sites for more news and updates.
On Stranger Tides left us with several questions, some that may not be answered at all. How will Jack get his beloved Black Pearl out the bottle? Will Barbossa learn that Jack has the Pearl? And will Philip and Syrena take part in Jack's adventure? And what about Angelica having the Voodoo doll? The only certain thing is that the far-off horizon beckons with promises of new treasures to be had. Let's hope to know more about it in a few months, maybe during Comic-con or maybe the next D23 Expo in December August 2013.
To quote Captain Jack himself, One can only hope. Stay tuned for more updates!
Ad blocker interference detected!
Wikia is a free-to-use site that makes money from advertising. We have a modified experience for viewers using ad blockers

Wikia is not accessible if you've made further modifications. Remove the custom ad blocker rule(s) and the page will load as expected.