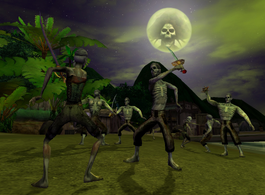 Well mates, Halloween, or All Hallows' Eve as some like to call it, creeps ever so closer as the most supernatural month of the year. And it seems that time of year as powerful magic was already brewing with ol' Jolly Roger's hex, the Curse of the Muertos Moon, being cast over the citizens and pirates residing in the Caribbean. Those at Pirates of the Caribbean Online will likely have their hands full with that, to raid, pillage, plunder, and otherwise pilfer their weasely black guts out...well, more than usual.
Although that doesn't mean there can't be any fun for those not able to play Pirates Online or, for some, video games like LEGO Pirates of the Caribbean...there's always the movies! Yes, four adventures involving the supernatural and the weird that only the brave or foolhardy dare to embark in. Which brings me to the next point in my utterly deceptive twaddle-speak.
In the spirit of Halloween, I thought we could all share which of the scariest of the many myths and legends that we've seen would you find...well, scary(or your favorite; either or). For instance, as shown in all four films...
Now that I brought up some examples, you can all decide your favorite(s). It doesn't even have to be these specific ones - it can be about anything that appeared in other POTC material(Pirates Online or any of the prequel books). So please decide by either posting a comment or voting in the poll below:
Which myth or legend is your favorite?