"We have our heading!"
- Captain Jack Sparrow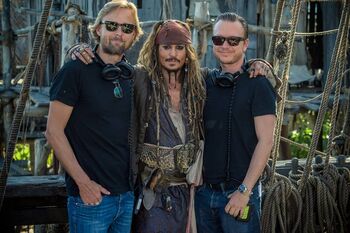 Gentlemen, the time has come...after who-knows-how-many rewrites, delays and hard work from Disney/Bruckheimer (and now Roenberg), etc, I am happy to say that—at long, long, long last!—Pirates of the Caribbean: Dead Men Tell No Tales has finished production! Filming began back in February, and it is today that director Joachim Rønning announced that it's a wrap. Here are some official posts confirming the latest news...
Facebook - After 93 shooting days PIRATES OF THE CARIBBEAN: DEAD MEN TELL NO TALES is a wrap! Big thanks to a fantastic cast and crew. — in Gold Coast, Queensland.
Instagram - joachimronningThat's a wrap on Pirates of the Caribbean: Dead Men Tell No Tales! Thank you #australia #pirates5
Yes, dear friends, Captain Jack will be back in about 2 years! Details of the story are few, but we do know from the official Disney announcement that Captain Jack will face deadly ghost pirates led by Captain Salazar and we may see certain locations (like the Devil's Triangle) and objects (the legendary Trident of Poseidon). Among the cast and characters, many new faces I'm sure, Disney only confirmed we will see the return of Hector Barbossa, Joshamee Gibbs, and Scrum. Since then, we've seen numerous of set photos, including the return of "Marty the dwarf" (as Gibbs calls him) and Jack's beloved Black Pearl—which seems to confirm that we will see the ship out of the bottle!
Many other things plot or otherwise are either speculative and/or complete rumor (*coughs* Will Turner) but we're sure to know what's going on around the next year and a half or so. Until then, let's rejoice in the fact that Pirates 5 is now real, happening, and is now coming to theaters near you...in 2017. Wow, even after trying so hard, it's difficult to forget you have to wait 2 years.
But enough of my twaddle-speak, present now your thoughts, my fellow pirates. Are you happy Dead Men Tell No Tales finished production? Are you excited for the film's release?...even though it's (sadly) so far away. Please comment below and share! :)
Ad blocker interference detected!
Wikia is a free-to-use site that makes money from advertising. We have a modified experience for viewers using ad blockers

Wikia is not accessible if you've made further modifications. Remove the custom ad blocker rule(s) and the page will load as expected.