Come one, come all!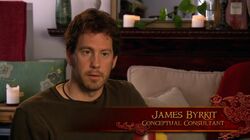 We have some AWEsome news for you, Pirate fans! After conversing with our friendly neighborhood POTC Wiki admin, I was able to get in touch with James Ward Byrkit, who very kindly agreed to do an interview for PotC Wiki! Jim Byrkit was involved in the making of the first 3 Pirates of the Caribbean movies, in which he worked with original Pirates director Gore Verbinski from the very first of the location scouts. His most recent pirating activities was taking the director's chair in the elusive Pirates short film, Tales of the Code: Wedlocked.
Since we have such an amazing chance to get an inside look at the Pirates Trilogy, we wanted to give the PotC Wiki community a chance to ask Jim Byrkit a few questions about his work and many contributions to the Pirates films(including making Sao Feng's map and the Pirata Codex). Please consider some burning questions you may have about Pirates that haven't been answered yet or ones that you don't know...and comment below!
But before you start asking... word of warning. Although Jim Byrkit may be able to answer questions regarding the first three Pirates films(being involved in the Trilogy since day one)...he cannot, however, answer questions regarding the possible future fifth film. He's assured me that he's not involved or connected with it whatsoever. So don't bother asking of those types of questions, as he doesn't know Jack!(no pun intended lol)
Ideally, we want to compile some of the best questions to ask, and we'll hold a community vote some time in the next few days so that everyone's voice will be heard. As a super huge fan of Pirates of the Caribbean myself, I can't wait to speak with him, and we hope that everyone is equally excited about this opportunity!
Stay tuned for when the actual interview will be posted.
Update
Ok, while an actual date for the interview has yet to be decided, I have decided on when the vote for the questions are to take place. So please continue to post your questions until the May 1st(or 2nd, depending on when I'm able to post the next blog). By that time, we will hold a community vote as to which questions will be asked.
We plan to ask Jim Byrkit about 10 questions (might be a little more or less, depending on the questions) and we want everyone in the community to have an equal say on which questions will be featured.
We are looking for thoughtful, unique questions, and value the opinions of our PotC Wiki community.
Ad blocker interference detected!
Wikia is a free-to-use site that makes money from advertising. We have a modified experience for viewers using ad blockers

Wikia is not accessible if you've made further modifications. Remove the custom ad blocker rule(s) and the page will load as expected.