"Death Cannot Stop Us!"
―Undead French Capitaine
These horrors are the creation of Jolly Roger. Thanks to Pierre le Porc, Jolly Roger has an endless supply of Undead French as Porc's French soldiers continue to dump fallen comrades on Isla Cangrejos. During the war against piracy, some of the Undead French participated in Jolly Roger's island invasions as part of his cursed forces.
The Undead French Army
Edit
The undead French army consist of:
Added to Pirates of the Caribbean Online in May 28, 2008, Jolly Roger has shown interest in the battle between Garcia de Avaracia and Pierre le Porc, since they unintentionally add new recruits and ships to Jolly Roger's army.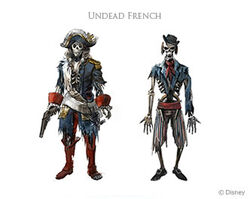 Appearances
Edit
For more information
Edit
Ad blocker interference detected!
Wikia is a free-to-use site that makes money from advertising. We have a modified experience for viewers using ad blockers

Wikia is not accessible if you've made further modifications. Remove the custom ad blocker rule(s) and the page will load as expected.