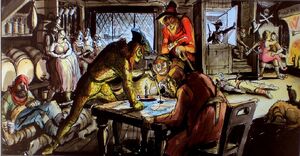 "Don't think the thought of mounting a search for Zerzura hasn't occurred to me, Captain. That was nearly the first thing I thought of, when I reached my new assignment."
"The only problem with legends like that, is that most of them don't include treasure maps."
A treasure map was a map that marks the location of buried treasure, a valuable secret or a hidden locale.
Appearances
Edit
Ad blocker interference detected!
Wikia is a free-to-use site that makes money from advertising. We have a modified experience for viewers using ad blockers

Wikia is not accessible if you've made further modifications. Remove the custom ad blocker rule(s) and the page will load as expected.