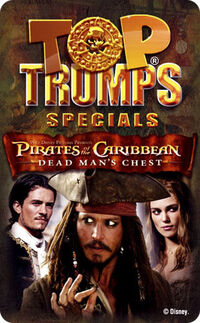 Top Trumps is a card game.
Top Trumps was first introduced in England by Dubreq in 1977. The line continued until the early '90s. In 1999, Winning Moves bought the rights to the game and relaunched it.
The cards are sold in packs with different themes. Some packs feature public domain themes such as military hardware and wildlife. Others are based on things like books and movies, including Pirates of the Caribbean. There have been two releases of Pirates of the Caribbean cards: one for Pirates of the Caribbean: Dead Man's Chest and one for Pirates of the Caribbean: At World's End.
Any number of people can play. Each person is dealt 30 cards. They hold their cards face up, but can only look at their first card. The first player than chooses the highest statistic on their card and reads it out. Everyone else reads out the highest statistic. The winner takes all the cards and puts them at the bottom of his pile.
If there is a tie, all the cards are put aside. The same player chooses a statistic from their card. The second round is played and the winner gets all the regular cards and the cards from the previous round.
Pirates of the Caribbean Top Trumps
Edit
Each card features a picture of the character at the top and flavor text to the left. To the right, the cards stats are shown. The stats are Cunning, Fear, Reputation, Courage, Pieces of Eight, and Piracy.
The At World's End cards were changed. Statistics went on top with flavor text at the bottom. The statistics became Power, Swordfighting Skills, Honour, Escapology, Secrecy, and Buccaneer Spirit.
Admiral Norrington
"Bootstrap Bill" Turner
Captain Barbossa
Captain Jack Sparrow
Captain Sao Feng
Captain Villanueva
Cotton
Davy Jones
Elizabeth Swann
Governor Swann
Jack the Monkey
Joshamee Gibbs
Lost Souls
Marty
Murtogg and Mullroy
Pintel
Ragetti
Sir Cutler Beckett
Tia Dalma
Will Turner
External link
Edit
Ad blocker interference detected!
Wikia is a free-to-use site that makes money from advertising. We have a modified experience for viewers using ad blockers

Wikia is not accessible if you've made further modifications. Remove the custom ad blocker rule(s) and the page will load as expected.