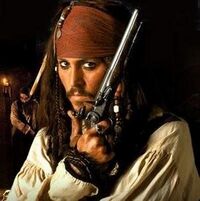 Welcome to the Pirates of the Caribbean wiki. I hope you enjoy contributing to our work here. For starters, here are a few useful links for newcomers:
Remember that you should sign all comments on talk and vote pages with four tildes (~~~~) to create your signature.
If you have any questions or discussion topics you wish to raise, don't forget to visit the Brethren Forum. You can also ask me any questions you may have on my talk page. Time to set sail!