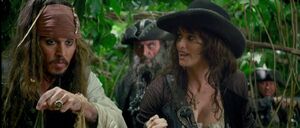 "No worries, mates. Tia Dalma and I go way back. Thick as thieves. Nigh inseparable, we are. Were. Have been. Before."
"I'll watch your back."
"It's me front I'm worried about."
If two people are thick as thieves, they are very close friends who have no secrets from each other. Jack Sparrow said that he was thick as thieves to many people, including Tia Dalma[1] and Angelica[2].
Notes and references
Edit
Ad blocker interference detected!
Wikia is a free-to-use site that makes money from advertising. We have a modified experience for viewers using ad blockers

Wikia is not accessible if you've made further modifications. Remove the custom ad blocker rule(s) and the page will load as expected.