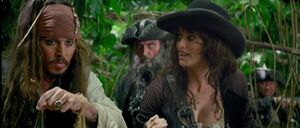 "No worries, mates. Tia Dalma and I go way back. Thick as thieves. Nigh inseparable, we are. Were. Have been. Before."
"I'll watch your back."
"It's me front I'm worried about."
If two people are thick as thieves, they are very close friends who have no secrets from each other. Jack Sparrow said that he was thick as thieves to many people, including Tia Dalma[1] and Angelica[2].
Sources
Notes and references