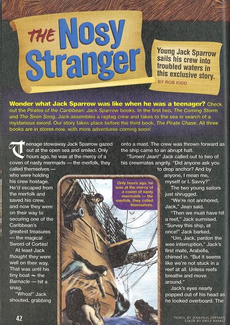 The Nosy Stranger is a short story written by Rob Kidd and set in the Pirates of the Caribbean world. It was published in Disney Adventures in August 2006. The story is chronologically set between Jack Sparrow: The Siren Song and Jack Sparrow: The Pirate Chase.
While sailing for Isla Fortuna, the Barnacle, a ship captained by Jack Sparrow, suddenly became stuck on the reef. But it turns out that the reef is actually a sea monster, and Jack must do everything he can to save his ship and his crew.
Appearances
Edit
Individuals
Edit
Creatures and species
Edit
Locations
Edit
Organizations
Edit
Ad blocker interference detected!
Wikia is a free-to-use site that makes money from advertising. We have a modified experience for viewers using ad blockers

Wikia is not accessible if you've made further modifications. Remove the custom ad blocker rule(s) and the page will load as expected.