Tearlach
Biographical information
Gender

Male

Eye color

Brown

Hair color

None

Statistics
Weapon(s) owned
Ship(s) captained or crewed
Affiliation
Behind the scenes
First appearance
Last appearance
Portrayer
.
"Feast your eyes, Captain. All of them, faithful hands before the mast. Every man worth his salt. And crazy to boot."
―Joshamee Gibbs on the Motley Crew, including Tearlach,
Tearlach
was a
crew member
recruited by
Captain
Jack Sparrow
at
Tortuga
prior to the pursuit of
Hector Barbossa
and the
Black Pearl
. A large, bald man with green eyes and a big nose, Tearlach wore a red coat.
Biography
Edit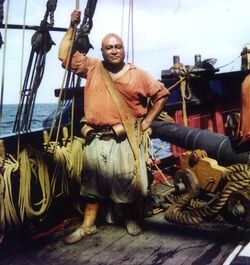 At some point, Tearlach joined the crew of the commandeered British Royal Navy vessel HMS Interceptor under Jack Sparrow. He had been hired by Joshamee Gibbs in Tortuga. They sailed through a storm, during which Tearlach and the other crewmen were soaked in the rain. He looked over the rail of the Interceptor into the sea as the ship passed through a dangerous passageway the next day. They later arrived at their destination, Isla de Muerta, where Jack Sparrow and William Turner went into the island alone. Will later came out without Jack, but the crew kept to the Pirate's Code and went on without him. When the Black Pearl attacked the Interceptor, Tearlach loaded and manned the cannons on the top deck as the Pearl chased their ship. The Interceptor later turned around to fight the Pearl and its crew, and the ships opened fire on each other. He survived and was taken prisoner with the other crewmen. They were imprisoned, left in the command of two cursed pirates. However they were later freed from their cell by Elizabeth Swann and took over the Black Pearl. Though refused to help her rescue Will and Jack from Isla De Muerta, they later rescued Jack from the gallows and he became captain once more.[1]
He continued to serve in Sparrow's crew for the next year, however he, Leech and many other crewmen planned to lead a mutiny on Jack. They were unhappy with Jack's leadership, and felt they needed to do more 'Pirate' things. When Jack suddenly woke them up in the middle of night, they rushed to their stations, shocked at their Captain's strange behaviour, especially when he ordered them not to retrieve his hat when it fell overboard. Later, when they were captured by the Pelegostos Tribe, Tearlach was likely killed as he did not accompany the crew on their escape. On an inquiry on where the rest of the crew had gone, one pirate replied that the bone cages the prisoners resided in weren't built until after the pirates had arrived on the island.[2]
Behind the scenes
Edit
Appearances
Edit
Notes and references
Edit