Tearlach
Biographical information
Gender

Male

Eye color

Brown

Hair color

None

Statistics
Weapon(s) owned
Ship(s) captained or crewed
Affiliation
Behind the scenes
First appearance
Last appearance
Portrayer
.
Tearlach was a crew member recruited by Captain Jack Sparrow at Tortuga prior to the pursuit of Hector Barbossa and the Black Pearl.
Biography
Edit
Jack's crew
Edit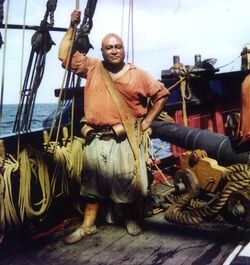 Tearlach served aboard the commandeered HMS Interceptor and later accompanied the crew as they absconded from Isla de Muerta with the Pearl. Sparrow was rescued from Fort Charles and Tearlach continued to serve him for the following year.
Tearlach was presumably killed by the Pelegostos as he did not accompany the crew as they made their escape from Pelegosto.
Behind the scenes
Edit
Appearances
Edit
Ad blocker interference detected!
Wikia is a free-to-use site that makes money from advertising. We have a modified experience for viewers using ad blockers

Wikia is not accessible if you've made further modifications. Remove the custom ad blocker rule(s) and the page will load as expected.