This article is about the helmsman of the HMS Dauntless. You may be looking for the title also known as Helmsman.
Unknown
Biographical information
Gender

Male

Ethnic group

English

Eye color

Hazel

Hair color

Brown

Title(s)
Statistics
Ship(s) captained or crewed
Affiliation
Behind the scenes
First appearance
Latest appearance
Portrayer
.
This man served in the British Royal Navy under Commodore James Norrington's command.
Biography
Edit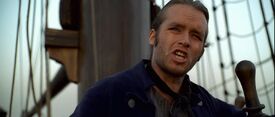 Nothing is known of his early life, except that at some point he became a helmsman in the British Royal Navy stationed in the town of Port Royal.
When Jack Sparrow and Will Turner took the Dauntless, the Interceptor boarded the ship and he went aboard the Dauntless along with all other crewmen. He manned the helm, but found out that Sparrow and Turner, who captured the Interceptor in the meantime, had disabled the rudder chain of the Dauntless, causing the ship to turn around and ram into Gillette's rowboat.
His further fate remains unknown, but it is likely that he continued to serve aboard the Dauntless and participated in the battle aboard her near Isla de Muerta.
Behind the scenes
Edit
Appearances
Edit