Smith
Biographical information
Gender

Male

Ethnic group
Eye color

Brown

Hair color

White (balding)

Title(s)
Statistics
Affiliation
Behind the scenes
First appearance
Latest appearance
Portrayer
.
"Hear ye hear ye! Commencing now the sessions of the peace. Presiding now over these trials, the highly esteemed magistrate of South York! All rise for the Right Honorable Justice Smith!"
Smith was known to be the judge at the Old Bailey in London.
Biography
Edit
While living in London, England, Smith served as a judge in the Old Bailey courthouse. In 1750, Smith was to preside over the trial against prisoner Joshamee Gibbs, who was mistaken as Captain Jack Sparrow. However, before he could appear before the court, he was caught by the real Jack Sparrow who tied up, gagged, and stuffed Smith into a closet in the main corridor. Putting on Smith's wig and robe, Jack assumed control over the court in the name "Justice Smith".[1]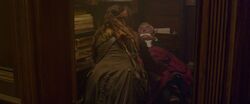 The trial ended with Gibbs found "guilty of being innocent of being Jack Sparrow" and condemned to a life in prison. After the trial ended, Jack took off his disguise as he made his way through the corridor. He thanked the tied and gagged Smith before leaving to join Gibbs. His further fate is unknown.[1]
Behind the scenes
Edit
Appearances
Edit
Notes and references
Edit
Ad blocker interference detected!
Wikia is a free-to-use site that makes money from advertising. We have a modified experience for viewers using ad blockers

Wikia is not accessible if you've made further modifications. Remove the custom ad blocker rule(s) and the page will load as expected.