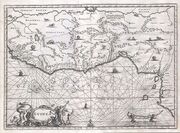 "Everything I've worked for, here in Calabar, enduring this hellish climate, getting this coast operating smoothly...everything, all that work...wasted."
The Slave Coast, also known as the Bight of Benin, was a region on the west coast of Africa. It was here that thousands of slaves were brought, sold and shipped off to the Americas. Because of the slaves, the economy flourished along the Slave Coast and brought many riches to some trading ports such as Calabar.
Appearances
Edit
External links
Edit
Ad blocker interference detected!
Wikia is a free-to-use site that makes money from advertising. We have a modified experience for viewers using ad blockers

Wikia is not accessible if you've made further modifications. Remove the custom ad blocker rule(s) and the page will load as expected.