Skinny man
Talk

0
2,574pages on
this wiki
"We are an unimaginative lot when it comes to naming things."


The title of this article is conjectural.
Although this article is based on canonical information, the actual name of this subject is pure conjecture. Please see the reasons for this title in the "Behind the scenes" section below, and/or the relevant discussion on the talk page.
Unknown
Biographical information
Gender

Male

Eye color

Brown

Hair color

Brown

Died

Black Pearl, off Isla Cruces

Also known as

Skinny man

Statistics
Ship(s) captained or crewed
Affiliation
Behind the scenes
First appearance
Last appearance
Cause

Killed by the Kraken

Portrayer
.
"My wife ran off with my dog, and I'm drunk for a month, and I don't give an ass rat's if I live or die."
"Perfect!"
―Skinny man and Joshamee Gibbs
This man was hired by Joshamee Gibbs to serve under Captain Jack Sparrow aboard the Black Pearl. Although the man was not informed, Jack intended to give his new recruits over to Davy Jones in order to appease his debt.
Biography
The man had apparently fallen on hard times after his wife ran off with his dog, after which he became a drunkard. He drank for a month and didn't care if he lived or died before being recruited in Jack Sparrow's crew in the Twelve Daggers tavern in Tortuga. He relayed his tale to Gibbs, who was happy to recruit the man for their particular deed.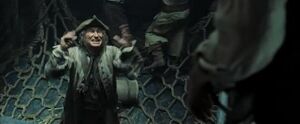 He quickly showed loyalty to his new captain when James Norrington threatened to shoot Jack. This man was one of two recruits to restrain the former Commodore, leading to a bar brawl. During the battle with the Kraken off Isla Cruces, the man informed Gibbs that the crew was low on gun powder. Gibbs then ordered him to load the rum, with which the man was very unhappy. He was ultimately killed shortly after the net with gun powder started to be lifted.
Appearances