Singapore
Talk

0
2,575pages on
this wiki
General information
Continent
Location
Points of interest

Sao Feng's bath house
Madame Rosie's Tavern[1]

Notable inhabitants
Societal
Affiliation
Behind the scenes
First appearance
Latest appearance
"Captain Barbossa, welcome to Singapore."
Singapore was an island city-state located at the southern tip of the Malay Peninsula, Asia. The name Singapore is derived from the Malay words singa (lion) and pura (city).
History
"I never would have thought of that."
"Clearly you've never been to Singapore."
―Murtogg and Jack Sparrow
Sao Feng's bath house in Singapore became the site of a confrontation between Sao Feng and Hector Barbossa, during the latter's quest to rescue Jack Sparrow from Davy Jones' Locker. The intervention of the East India Trading Company led to a full-scale battle in the streets of Singapore, during which a fireworks factory was destroyed by Jack the monkey. With haste, Barbossa's crew set sail in the Hai Peng, soon followed by Sao Feng himself in the Empress, intending to track down Jack Sparrow.[2]
Layout
"You've been to the Orient?"
"Aye. Singapore. And other places."
"I was stationed in Nippon for three years."
"I can tell. Very nice collection of netsuke."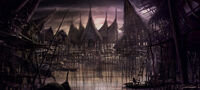 The harbor city of Singapore appeared to be little more than a dilapidated shanty town, though, due in part to Pirate Lord Sao Feng's influence, the city held many secrets. Chart-makers and glass-blowers frequented the narrow byways, many operating covertly as spies for Sao Feng. Sao Feng's bath house was located deep within the shadowy backwaters of Singapore, beyond the city's marketplace. A sacred retreat built on the stone foundations of a 16th century fort, the bath house was a hallowed haunt only the most privileged or notorious were allowed entry to.[2]
Behind the scenes
Appearances
Sources
​External links
Notes and references
↑ A featurette in the At World's End DVD about the Pirata Codex, as well as what was actually written in it, reveals information about a Rosie's Tavern located in Singapore.