Simbakka was a crew member aboard the Black Pearl, serving under Captain Jack Sparrow, and, following his mutiny, Hector Barbossa.
Biography
Edit
Nothing is known about Simbakka's past, except that he joined the crew of the Black Pearl under Captain Jack Sparrow when he searched for the Isla de Muerta and the Chest of Cortes. During the journey, Simbakka joined Hector Barbossa's mutiny against Jack.
Simbakka became cursed along with the rest of Barbossa's crew when they stole the treasure from the Chest of Cortés at Isla de Muerta, and spent the following decade attempting to lift their curse. The curse was ultimately reversed by the combined efforts of Will Turner and Jack Sparrow, though Simbakka and the crew were forced to surrender to Commodore James Norrington aboard the HMS Dauntless.
Simbakka was likely taken back to Port Royal to be executed.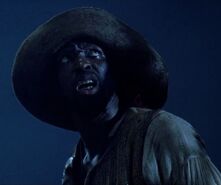 Appearances
Edit
Ad blocker interference detected!
Wikia is a free-to-use site that makes money from advertising. We have a modified experience for viewers using ad blockers

Wikia is not accessible if you've made further modifications. Remove the custom ad blocker rule(s) and the page will load as expected.