Ad blocker interference detected!
Wikia is a free-to-use site that makes money from advertising. We have a modified experience for viewers using ad blockers

Wikia is not accessible if you've made further modifications. Remove the custom ad blocker rule(s) and the page will load as expected.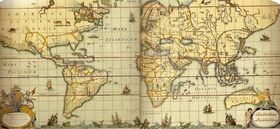 "I chased a man across the seven seas. The pursuit cost me my crew, my commission, and my life."
The Seven Seas is a phrase commonly used in reference to seven of the major oceans of the world. The phrase could also be used to indicate the entirety of the world itself.
The phrase first appeared in a hymn written in around 2300 BC in the city of Sumer, and was later taken up by the Greeks and Romans. In ancient times, seven was sometimes used to indicate "many" or "several". Seven is the biblical representation of completeness. The phrase commonly referred to the following seas:
Appearances
External links