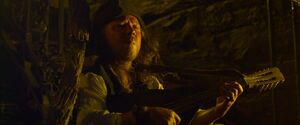 Scrum's mandola was a musical instrument owned by Scrum. It had eight strings, which were all out of tune.
Not much is known about how Scrum obtained this mandola, but it is known that he learned how to play it. His mother said that his playing brought a tear to her eye, and Scrum attempted to seduce a Berber princess with his musical talent.[1]
While helping Angelica, disguised as Jack Sparrow, recruiting a crew in Captain's Daughter, Scrum wooed the wenches in the tavern by playing My Jolly Sailor Bold with this mandola, until the real Jack Sparrow appeared. Later, aboard the Queen Anne's Revenge, Scrum played the mandola as Jack and Angelica danced on deck.[2]
Appearances
Edit
Notes and references
Edit
Ad blocker interference detected!
Wikia is a free-to-use site that makes money from advertising. We have a modified experience for viewers using ad blockers

Wikia is not accessible if you've made further modifications. Remove the custom ad blocker rule(s) and the page will load as expected.