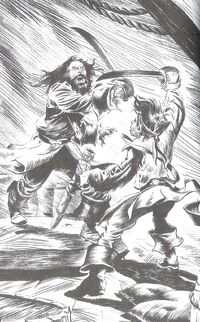 "Do ye know what this is?"
"Worth lots of gold?"
"It's the scabbard to the Sword of Cortés."
This scabbard was the sheath of the Sword of Cortés, and enhanced its power when the two came into contact. The scabbard would act as a compass when separated from the Sword, literally pointing in the direction of the Sword.
Appearances
Edit
Ad blocker interference detected!
Wikia is a free-to-use site that makes money from advertising. We have a modified experience for viewers using ad blockers

Wikia is not accessible if you've made further modifications. Remove the custom ad blocker rule(s) and the page will load as expected.