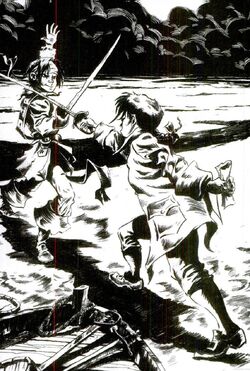 "I know the perfect boat to use. An old, abandoned one in Salty Cove."
The Salty Cove was an area on the island of Tortuga. It was here that young Jack Sparrow and Arabella Smith stole an old fishing boat, the Barnacle. Also this is where Jack first met Fitzwilliam P. Dalton III and was challenged to a duel.
Appearances
Edit
Ad blocker interference detected!
Wikia is a free-to-use site that makes money from advertising. We have a modified experience for viewers using ad blockers

Wikia is not accessible if you've made further modifications. Remove the custom ad blocker rule(s) and the page will load as expected.