Salomon Passariello
Biographical information
Gender

Male

Eye color

Brown

Hair color

Black

Born
Behind the scenes
First appearance
Latest appearance
Character(s) portrayed

Queen Anne's Revenge Pirate
Salomon Passariello (born May 27, 1984) is an American actor. He portrayed a Queen Anne Pirate in Pirates of the Caribbean: On Stranger Tides.
Biography
Edit
Salomon Passariello was born in Queens, New York. He began acting at the age of 10 in a small theatrical group that performed in Lyon,France. Upon graduating high school, he decided to dedicate his life to acting and moved to Los Angeles, CA to become an accomplished actor with the versatility to perform in both English, French and Spanish. He is the bass player of the band Dark Underground.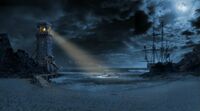 Though uncredited at first, Salomon Passariello appeared as as a Queen Anne's Revenge Pirate in Pirates of the Caribbean: On Stranger Tides. He was later credited as a stuntman in On Stranger Tides.
Salomon later appeared in The Dark Knight Rises, where he portrayed a Mobster and later a Prisoner on "Black Prison-Cellblock #9". He also appeared in The Avengers, Snow White and the Huntsman, and The Amazing Spiderman(as a high school student).
Appearances
Edit
External links
Edit
Ad blocker interference detected!
Wikia is a free-to-use site that makes money from advertising. We have a modified experience for viewers using ad blockers

Wikia is not accessible if you've made further modifications. Remove the custom ad blocker rule(s) and the page will load as expected.