Ratlin
Biographical information
Gender

Male

Statistics
Weapon(s) owned

Axe
Cutlass

Ship(s) captained or crewed
Affiliation
Behind the scenes
First appearance
Latest appearance
Cause

Reverted back to his human form

.
Ratlin was a crew member serving aboard the Flying Dutchman under the command of Davy Jones around the time of the search for the Dead Man's Chest.
The crew of the Dutchman were known to gradually take on characteristics of sea creatures over time, though in Ratlin's case, it was the ship itself that became part of his biology. Rope and sailcloth became fused into his face.[1]
Ratlin was one of the four most trusted mates aboard the Flying Dutchman, along with Maccus, Penrod, and Angler.[2]Ratlin were aboard a scuttled ship, where he attacked Will Turner with the other crewmembers. Ratlin was one of the crewers who manned the Kraken Hammer prior to the attack on the Edinburgh Trader, and was still onboard when the East India Trading Company assumed control of Davy Jones, his ship and its crew. He fought in the battle around Calypso's maelstrom and survived.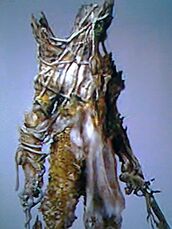 Behind the scenes
Edit
The name is a play on the word "ratline" (pronounced "rattlin"), which is the thin lines tied between the shrouds of a sailing ship to form a ladder.
Ratlin is unlocked at the level "Sea battle" in the AWE video game's "loot" sub-mission
Appearances
Edit
Notes and references
Edit
Ad blocker interference detected!
Wikia is a free-to-use site that makes money from advertising. We have a modified experience for viewers using ad blockers

Wikia is not accessible if you've made further modifications. Remove the custom ad blocker rule(s) and the page will load as expected.