Ad blocker interference detected!
Wikia is a free-to-use site that makes money from advertising. We have a modified experience for viewers using ad blockers

Wikia is not accessible if you've made further modifications. Remove the custom ad blocker rule(s) and the page will load as expected.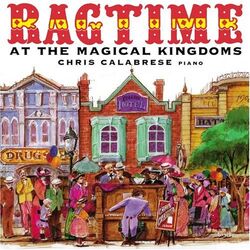 Ragtime at the Magical Kingdoms is album of ragtime music based on the music from the Disney theme parks performed by Chris Calabrese. The album was released on August 25, 1998.
Track listing
Main Street Medley: Dearie/Sidewalks of New York/Smiles/Coney Island Ba
Tiki Room Medley: The Tiki Tiki Room/Let's All Sing Like the Birdies Si
Yo Ho/Grim Grinning Ghost Medley: Yo Ho (A Pirate's Life for Me) /Grim
Country Bear Jamboree Medley: Bear Band Serenade/Heart, We Did All That
Zip-A-Dee-Doo-Dah
Milenberg Joys
Golden/ Diamond Horseshoe Revue Medley: Hello Everybody/Golden Horsesho
Castle Salute: Cinderella/Once upon a Dream/Little Wooden Head/When You
Snow White Medley: Someday My Prince Will Come/Whistle While You Work/I
You Can Fly! You Can Fly! You Can Fly! {From Peter Pan}
Alice in Wonderland Medley: Alice in Wonderland/All in the Golden After
Maroon Cartoon
Toontown Medley: Minnie's Yoohoo/The Mickey Mouse March
Miracles from Molecules
If You Had Wings
(There's A) Great Big Beautiful Tomorrow
Meet the World
Golden Dream
World Showcase Medley: Canada (You're a Lifetime Journey) /Wonders of C
One Little Spark
It's a Small World (After All)
Tony Thomas Interviews Walt Disney - Tony Thomas
External links