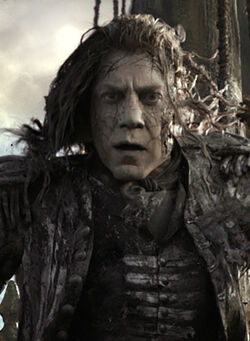 Spoken by Armando Salazar
Edit
"Pirates had infected the seas for generations. So I vowed to eliminate them all. And then, there was this boy. Jack Sparrow. He took everything from me... And filled me with... rage."
―Armando Salazar
"Jack Sparrow cursed me to this life. I will have my revenge."
―Armando Salazar
"There's nowhere to hide. Find Sparrow for me."
―Armando Salazar to Hector Barbossa
"You will soon pay for what you did to me."
―Armando Salazar
Spoken about Armando Salazar
Edit
"I once knew a Spaniard named... Something in Spanish."
"He's coming for you, Jack, to seek revenge."
"Jack Sparrow. Do you know this pirate?"
"Only by name."
"Find Sparrow for me, and relay a message from Capitán Salazar, and tell him... Death will come straight for him. Will you say that to him? Please?"
―Armando Salazar and Henry Turner
"I've heard stories of a mighty Spanish captain who's hunted and killed thousands of men."
"No, no, no, no, no. Men, no! No, no, no, no. Pirates!"
―Hector Barbossa and Armando Salazar
Ad blocker interference detected!
Wikia is a free-to-use site that makes money from advertising. We have a modified experience for viewers using ad blockers

Wikia is not accessible if you've made further modifications. Remove the custom ad blocker rule(s) and the page will load as expected.