Quittance
Biographical information
Gender

Male

Statistics
Weapon(s) owned
Ship(s) captained or crewed
Affiliation
Behind the scenes
First appearance
Latest appearance
Cause

Reverted back to his human form[1]

Portrayer
.
Quittance was a crew member serving aboard the Flying Dutchman under the command of Captain Davy Jones around the time of the search for the Dead Man's Chest.
Biography
Edit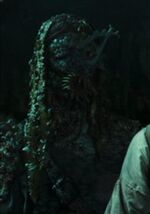 Quittance was identified by several unique distinguishing features that were the result of serving onboard the Dutchman. Numerous sea creatures became assimilated into his body, including a moray eel in his chest,[2] a clam that took the place of his right eye, an anemone for a mouth, seaweed for hair and starfish hands. His entire anatomy became similar to that of a starfish, giving Quittance the ability to regenerate damaged or lost limbs.[3]
Quittance was one of the crewers who witnessed the game of liar's dice between Davy Jones, Will Turner and Bootstrap Bill Turner. He later joined the fight on Isla Cruces for the Dead Man's Chest, briefly teaming up with Old Haddy to battle Pintel and Ragetti. During this duel, Quittance was knocked to the ground, though later returned with the rest of the crew to the Dutchman.
He remained onboard when the East India Trading Company assumed control of Davy Jones, his ship and its crew. He reverted to his human form when Will Turner took command of the Flying Dutchman following Jones' death.[1]
Behind the scenes
Edit
Appearances
Edit
Notes and references
Edit
Ad blocker interference detected!
Wikia is a free-to-use site that makes money from advertising. We have a modified experience for viewers using ad blockers

Wikia is not accessible if you've made further modifications. Remove the custom ad blocker rule(s) and the page will load as expected.