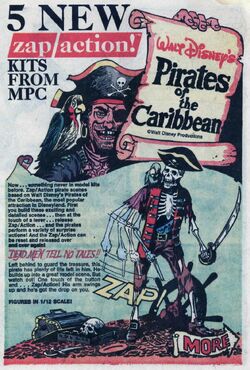 The Pirates of the Caribbean model kits are plastic zap/action model kits based on the Pirates of the Caribbean ride in Disneyland Park. They were released in 1972.
History
Model Products Corporation launched the series with five kits: Dead Men Tell No Tales, Fate of the Mutineers, Dead Man's Raft, Condemned to Chains Forever and Hoist High the Jolly Roger. Two additional kits were later released: Ghost of the Treasure Guard and Freed in the Nick of Time. Ghost of the Treasure Guard however, actually recycled the figures from Dead Men Tell No Tales and Hoist High the Jolly Roger and combined them into a larger scene. The figure in Hoist High the Jolly Roger was the only one in the series to represent a living human and not a skeletal ghost.
Each of the first five kits included a two-page printed insert that provided background on the Disneyland attraction, a history of the Age of Piracy and a suggested layout that would simulate an attraction ride-through.
Kits
Ad blocker interference detected!
Wikia is a free-to-use site that makes money from advertising. We have a modified experience for viewers using ad blockers

Wikia is not accessible if you've made further modifications. Remove the custom ad blocker rule(s) and the page will load as expected.