"Now...Bring me that horizon."


This article or section contains information about a scheduled or expected future product.
It is likely to contain information of a speculative nature and the content may change dramatically as the product release approaches and more information becomes available. Bear in mind that as updates are required, outdated information is still relevant to a Development section.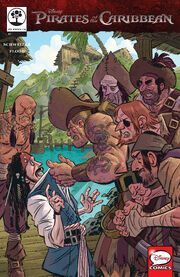 Pirates of the Caribbean #2
is the second issue of the
Joe Books Ltd comic book series Pirates of the Caribbean
.The comic will have 32 pages
[1]
.This comic is released on September 28, 2016
[2]
Appearances
Individuals
Behind the Scenes
Cite error: <ref> tags exist, but no <references/> tag was found
Ad blocker interference detected!
Wikia is a free-to-use site that makes money from advertising. We have a modified experience for viewers using ad blockers

Wikia is not accessible if you've made further modifications. Remove the custom ad blocker rule(s) and the page will load as expected.