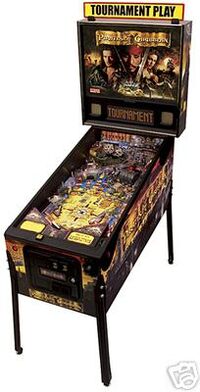 The Pirates of the Caribbean pinball machine was manufactured by Stern Pinball. It was released in July, 2006 and about 4000 were made.
The game was based on Pirates of the Caribbean: Dead Man's Chest. The board features a mechanical Flying Dutchman the player must sink by hiting it with the ball. Once the ship has been sunk, the player can hit the Kraken and battle Davy Jones.
Another feature is the Dead Man's Chest. The player can go through it if they have the key. If they manage to spell "HEART", they enter multiball mode.
A spinning rubber disk contains balls until the player activates multiball mode. The area is meant to represent either Port Royal or Tortuga.
Even the games instruction card references the movie. The word "Rules" is crossed out and replaced with "More like guidelines."
External Links
Edit
Ad blocker interference detected!
Wikia is a free-to-use site that makes money from advertising. We have a modified experience for viewers using ad blockers

Wikia is not accessible if you've made further modifications. Remove the custom ad blocker rule(s) and the page will load as expected.