"Now...Bring me that horizon."


This article or section contains information about a scheduled or expected future product.
It is likely to contain information of a speculative nature and the content may change dramatically as the product release approaches and more information becomes available. Bear in mind that as updates are required, outdated information is still relevant to a Development section.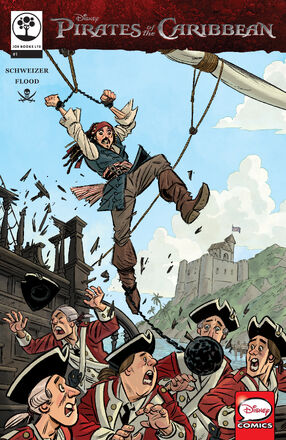 Pirates of the Caribbean is a monthly comic book published by Joe Books Ltd. Chris Schweizer and Joe Flood are the primary creative team.[1] There are currently four issues and an upcoming trade titled Beyond Port Royal.
According to the synopsis of the first issue, the story took place between the events of The Curse of the Black Pearl and Dead Man's Chest.
"Return to the world of Captain Jack Sparrow in these untold tales of pirate adventure on the high seas! After squaring off with Captain Barbossa in a cursed duel, Jack is back on the run. And while Admiral Norrington may have given Jack a head start on his escape, the chase is now on.""
―Sypnosis of the first issue
According to Tech Times, as the series progresses it will cover multiple events occurring in between the movies and stop just before the premiere of Dead Men Tell No Tales.[2]
References
Edit
Ad blocker interference detected!
Wikia is a free-to-use site that makes money from advertising. We have a modified experience for viewers using ad blockers

Wikia is not accessible if you've made further modifications. Remove the custom ad blocker rule(s) and the page will load as expected.