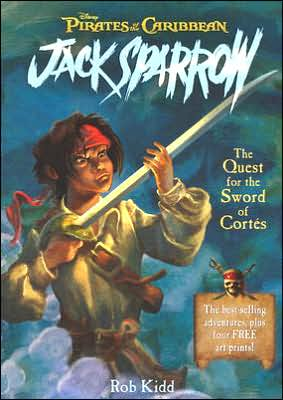 "Before the Black Pearl, there was a teenage stowaway named Jack Sparrow..."
―Pirates of the Caribbean: Jack Sparrow tagline
Pirates of the Caribbean: Jack Sparrow is a series of young reader books written by Rob Kidd and published by Disney Press.
The series deals with the early years of Captain Jack Sparrow, in the decades before the events of Pirates of the Caribbean: The Curse of the Black Pearl. The series began on June 1, 2006, with the release of the first two books, concluding July 29, 2008 with the twelfth volume. It is followed by the series Pirates of the Caribbean: Legends of the Brethren Court, which is set thirteen years before the events of the first film in the Pirates of the Caribbean film series.
The first four installments have been collected in the boxset volume, Pirates of the Caribbean: Jack Sparrow: The Quest for the Sword of Cortés, published in October 2006.
Ad blocker interference detected!
Wikia is a free-to-use site that makes money from advertising. We have a modified experience for viewers using ad blockers

Wikia is not accessible if you've made further modifications. Remove the custom ad blocker rule(s) and the page will load as expected.