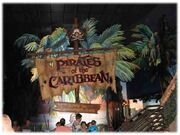 Pirates of the Caribbean: Battle for Buccaneer Gold is a cross between a arcade game and virtual reality experience. It can only be found at DisneyQuest.
Description
Edit
The game has five seats. One of the seats has controls for steering the ship while the other seats have controls for the player to shoot cannons. To screens in front of the controls display the graphics for the game.
The game starts with a skeleton on screen saying "Dead men tell no tales." Following the introduction, the players start the game. As they sail, there are other ships, sea monsters, and forts to shoot at.
External links
Edit
Ad blocker interference detected!
Wikia is a free-to-use site that makes money from advertising. We have a modified experience for viewers using ad blockers

Wikia is not accessible if you've made further modifications. Remove the custom ad blocker rule(s) and the page will load as expected.