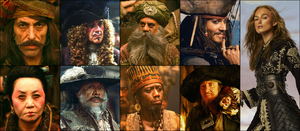 "The Brethren Court is composed of the nine Pirate Lords, the greatest pirates in all the Seven Seas."
The Pirate Lords were nine powerful pirate captains who each claimed territories around the world. They were known for creating the Pirate Code[1] and binding the Sea Goddess, Calypso in human form. They again united against the threat of Lord Cutler Beckett.
Pirate Lords
The nine Pirate Lords as of the meeting of the Fourth Brethren Court.
Former Pirate Lords
First Court
Second Court
Third Court
Other Lords
Prospective Pirate Lords
Behind the scenes
"The Pirate Lords, from the four corners of the Earth, must stand together."
The original opening of At World's End was to be a montage depicting the Pirate Lords each receiving a piece of eight from Hector Barbossa as a sort of invitation announcing the convening of the Brethren Court. However, the scene of the hanging at Fort Charles, in which Hoist the Colors was sung, ended up being the opening in the final cut of the film. All that remained of the original opening was a shot of Barbossa with a piece of eight in his hand, which only appeared in the opening clip of the At World's End deleted scenes.[7]
Appearances
Sources
Notes and references
Ad blocker interference detected!
Wikia is a free-to-use site that makes money from advertising. We have a modified experience for viewers using ad blockers

Wikia is not accessible if you've made further modifications. Remove the custom ad blocker rule(s) and the page will load as expected.