"The East India Trading Company has need of your services."


The blank edges of the map must be filled in. This article has an excess of redlinks in it.
Attention is requested to create new articles from these links. Please remove this message when finished.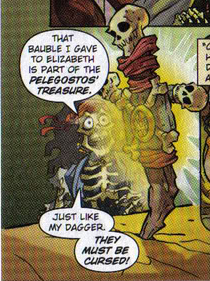 The Pelegostos dagger was a small dagger which Captain Jack Sparrow stole from the cannibals of Pelegosto with a Pelegostos necklace, which he gave to Elizabeth Swann. Its hilt had 3 skulls and the symbol on the necklace, as well as a black blade. Jack threw it overboard after it cursed him.
Behind the scenes
Edit
Appearances
Edit