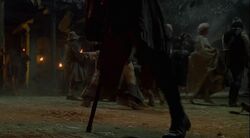 "Ah! My leg! You blooming cockroaches! You've broken me leg!"
"Dreadful sorry. I know the name of a good peg leg man. Uses whale bone. Top quality. Best in Tortuga."
―Pequeño and Jack Sparrow
A peg leg, also referred to as a wooden leg, was a prosthesis, more specifically an artificial limb of carved wood fitted to the remaining stump of an amputated leg. Several individuals, some mainly being pirates, wore peg legs.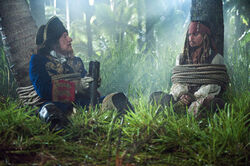 "Have you ever had a peg leg?"
In his life, Davy Jones had two legs until he abandoned his duty to ferry souls aboard the Flying Dutchman, in which he mutated into a fish-like being in which his right leg was replaced with a lobster/crab leg, that acted as a peg leg.[1][2] Jack Sparrow claimed to have known the name of a good peg leg man, who used whale bone.[3]
When Hector Barbossa lost his right leg after an attack on the Black Pearl, he replaced his missing limb with a wooden leg that had a hidden rum supply. Barbossa would wear the peg leg throughout the quest for the Fountain of Youth, where he served as a privateer until returning to piracy.[4]
Behind the scenes
Edit
In real-world history, pirates rarely worn a peg leg, if not wearing them at all.
Appearances
Edit
External links
Edit
Notes and references
Edit