Palm Tree Escape is a musical theme composed by Hans Zimmer for Pirates of the Caribbean: On Stranger Tides. It appeared as a track on the film's soundtrack.
Track description
Edit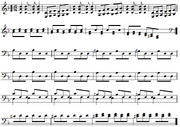 The track is a variation on the opening section of the "Jack Sparrow" suite, backed by a small excerpt of "You Look Good Jack" (played on guitars by Rodrigo y Gabriela), followed by "Wheel of Fortune" and then finishing with an action variation of "He's a Pirate"(similar to what's heard in End Credits).
The track begins with a lively version of the first part of "Jack Sparrow" from Dead Man's Chest, with ha pedal note on the the tonic note of D playing above it. Halfway through the theme, the pedal note is moved to up to F, the mediant. After Jack's theme has completed its cycle, the often used three note rising figure is played three times, followed by the action cue from "Jack Sparrow". There is then a short excerpt of music from "You Look Good Jack" (often mistaken for a new minor action theme). After that there is a section of new music, again with a tonic pedal. This section has the addition of an off-beat rising figure in the latter half. After a one-off action theme the track moves into an action variation of "He's a Pirate", decorated by Rodrigo y Gabriela. The track is rounded off with the new "exploration" secondary motif.
The track plays during the escape from Palm Tree Grove, in which Jack attacks the Spanish using palm trees.
Similar to the other tracks featuring Rodrigo y Gabriela, much of the ornamentation heard in the final recording was probably not notated, but improvised by the performers.
There is very little new material in this score, although there are a few one-off action themes.
The majority of the recycled material is from themes in Dead Man's Chest.
Appearances
Edit