Otter
Career information
Owner(s)
Captain(s)
Technical information
Type
Weapons

8 cannons

Affiliation
Behind the scenes
First appearance
Latest appearance
"Sri Sumbhajee considers the Otter to be his favorite ship for sneaking past the East India Trading Company."
―Unknown
The Otter was a two-masted boutre owned and captained by the Indian Pirate Lord Sumbhajee Angria. She was part of the Brethren Court Armada during the battle of Calypso's maelstrom.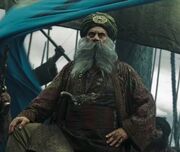 "A sail! A sail! There's a ship coming this way!"
It is unknown when or where Sumbhajee obtained the Otter. But it is known that the Otter served as Sumbhajee's flagship since the 1730s.
Appearances
Edit
Ad blocker interference detected!
Wikia is a free-to-use site that makes money from advertising. We have a modified experience for viewers using ad blockers

Wikia is not accessible if you've made further modifications. Remove the custom ad blocker rule(s) and the page will load as expected.