Nipperkin
Biographical information
Gender

Male

Statistics
Ship(s) captained or crewed
Affiliation
Behind the scenes
First appearance
Last appearance
Cause

Was probably hanged in Port Royal

Portrayer
.
Nipperkin was a member of Hector Barbossa's Cursed crew, forsaken upon taking a piece of gold from the Chest of Cortés. He participated in the batle aboard the HMS Dauntless and surrendered to the navy after being uncursed. He was taken back to Port Royal and hanged.
Appearances
Edit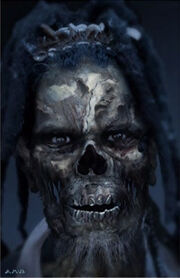 Ad blocker interference detected!
Wikia is a free-to-use site that makes money from advertising. We have a modified experience for viewers using ad blockers

Wikia is not accessible if you've made further modifications. Remove the custom ad blocker rule(s) and the page will load as expected.