Morey
Biographical information
Gender

Male

Eye color

Blue

Hair color

None

Height

6'4

Died

Calypso's maelstrom off Shipwreck Island

Statistics
Weapon(s) owned
Ship(s) captained or crewed
Battles
Affiliation
Behind the scenes
First appearance
Latest appearance
Cause

Decapitated and stabbed by Hector Barbossa

Portrayer

Unknown

.
Morey[1] was a crew member aboard the Flying Dutchman, serving under Captain Davy Jones.
History
Over time, Morey had assimilated various aquatic flora and fauna into his body. The most prominent of these transformations was that his head had turned into that of a moray eel. He fought against the crew of the Empress, engulfing one of the pirates' heads with his powerful jaws, and rocking it from side to side. The gaping hole that was once Morey's neck, seems to be a likeness to the ruffs worn during the 1500's. He was also Davy Jones's elite crewman. Morey was known to sailors as the most ruthless crewmember, never leaving any survivors.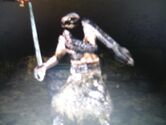 He participated in the
battle around Calypso's maelstrom
and managed to board the
Black Pearl
safely but was decapitated and stabbed by
Hector Barbossa
in battle.
Behind the Scenes
In the
At World's End video game
Morey appeared
under the name "Electric Arm". As it shows, he is a body with an eel's tail and head as replacments for the somewhat missing arm and head. He is the third boss of the game and the boss for the "Pearl vs Dutchman" level.
Appearances
Notes and references